Okay, I suppose that "the perfect smoothie" is a little subjective. Obviously, it all comes down to taste and what you want to accomplish. But, here are the steps I use, and some simple recipes that you can make in minutes flat.
Smoothie making steps
Step 1: (Cut a hole in the box. Just kidding) First, pick your "base." This is going to be some kind of fruit or veggie that juices well, and will provide the bulk of the liquid. I dig celery for this. It has so many amazing benefits, which I only found out about more recently. According to askdrnandi.com:
First of all, celery has many vitamins and minerals including folate, potassium, vitamin b6, and vitamin c
Celery can lower inflammation
It can help with blood pressure and cholesterol issues
Celery protects the kidneys and liver
Plus, celery is great for digestion
So yeah. Get your celery on, friends!
Step 2: Next, pick your "filler fruit" for the smoothie I love adding berries for the antioxidants, and clementines for the easy to peel factor and the vitamin c.
Step 3: Then, add water til you blend it to the desired consistency you want. I don't like them super thick.
Step 4: Finally, decide if you want to add any extra shtuff. You can add flax seed for extra digestive support, Ningxia Red for extra immune support, Aminowise for muscle support, or greens or protein powder. It really all depends on what kind of body systems you want to target.
PRO-HACK: Most grocery stores sell frozen bags of pre-mixed, pre-cut up fruit perfect for smoothies. This will save you even more time. Busy mom win!
As you can see, the whole process takes 5 min or less, and it is a great way to start the day. HERE are a few you can try. Let me know what you think in the comments!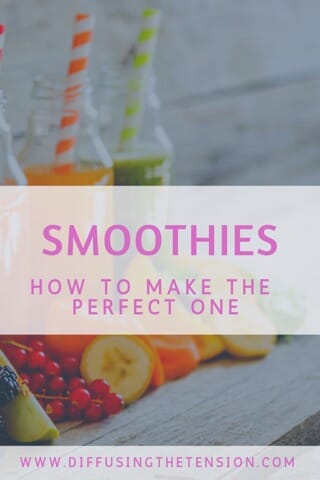 (Share this post on Pinterest by using the icon in the top left corner of the picture!)
The selected Optin Cat form doesn't exist.
Related Posts: How You Can Be Healthier in 30 Days, 10 Easy Freezer Meals You Can Make Tonight, An easy recipe you can make for dessert tonight